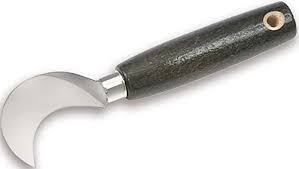 Grape Knives Curved no.GK3
SKU

100-179
$3.35
$2.85 On Sale!
You Save

2.85
Grape Knives Curved no.GK3 More Details
3 in. Blade with Curved Blade Tip. Made of high carbon steel with molded PP safety grip handle with hole for string. Used for cutting grapes, trimming suckers, opening boxes, cutting onion roots, tirmming sod and cleaning cotton picking machine.
Other Information:
About Us | Suggested Links
Website Privacy Policy | Our Security Policy
---
copyright © 1999 - 2018 G.L. Billings. all rights reserved.
---
Webscape Produced and Powered By:
Aerial Dynamics Corporation